Ethical Forestry's blog
When it comes to harvesting, there's no one size fits all.

Trees are our business, and as well as planting, growing and harvesting commercial trees for our investors, we also protect the precious wild species we discover on our land. One such example is the bold and beautiful Corteza amarilla.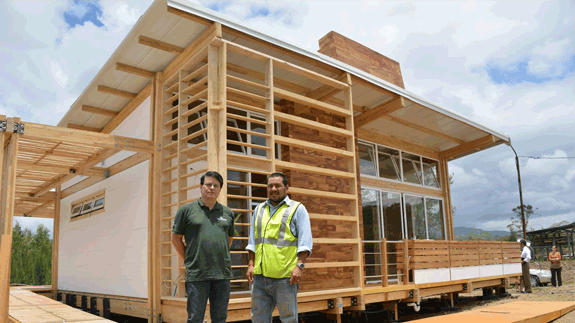 When we heard that a design team from the Costa Rica Institute of Technology had been selected to design and build an eco-house for an award-winning competition, we decided to help out.
As we move into the second half of 2014, we balance our continuous expansion with the development of our Forestry Easement Trust and our on-going support of the communities within which we operate.
At Ethical Forestry we welcome any news about worldwide conservation efforts. An integral element of our ethos is dedicated to protecting and preserving rainforests for future generations – our Forestry Easement Trust. Our passion for sustainable forestry led us to some very reassuring news stories this week, featured in Blue & Green Tomorrow, which highlighted some tremendous efforts already in place to protect the planet's much-needed forests.
In recent weeks, the team at Ethical Forestry has enjoyed reading and sharing the latest news around the growing popularity and ever-increasing awareness of the use of timber in construction. On 24th April, perhaps the most indicative story on the growing timber industry on our own shores was announced – the UK's largest timber building opened.
In a recent article in the Guardian, the use of sustainably sourced timber in construction was recommended as one of the top four methods of making housing more sustainable. Not only are we delighted that the demand for sustainable living is on the rise – something Ethical Forestry wholeheartedly supports – but that the UK media is starting to champion timber as the material of choice. The article highlights how not only is sustainably sourced timber readily available, but that the industry has "protected millions of acres of rainforest around the world" – something at the heart of our work in Costa Rica. We hope the future of construction revolves around timber, but we also wanted to celebrate one consistent timber-based house that has stood the test of time – the tree house.
We wholeheartedly support any initiative that recognises the importance of timber. We were delighted to learn this week that Wood for Good, the UK's campaign for wood promotion and sustainability, hosted a roundtable policy debate at the House of Commons at the end of March. The roundtable was organised with one goal in mind – to raise awareness of timber's value as a sustainable construction material. The message delivered was one we whole-heartedly support, emphasising the sustainable credentials of this valuable resource, beyond those of its construction led value.
We live and breathe all things timber here at Ethical Forestry. Recently, we have been delighted to read about a number of very different, yet very interesting uses of timber.
Sustainability, by the very nature of our offer, is a fundamental pillar of our operation both in Costa Rica, and the UK. Central to the protection and development of multiple eco-systems and bio-diversity measures throughout the forests in our care, is the team that drives this very activity. Therefore, a significant part of our sustainability programme is our Workers' Cooperative – an initiative we developed in order to create and maintain a healthy, self-sufficient food source for our workers in Costa Rica.