Tree Owner Stories
Glyn Williams, IFA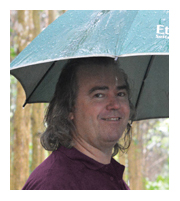 Being an IFA, I'd already carried out due diligence and paperwork checks in the UK, leading me to believe authenticity. But before I invested, I wanted to see Ethical Forestry's Costa Rican operations first-hand.
Accompanied by Director Robert Brown, I visited different plantations at different stages of growth. Two things struck me: firstly, the good order and straight lines of managed tree growth; secondly, the clear ground at the foot of the trees throughout. I'm no agricultural specialist, but achieving such order and cleanliness over such vast areas indicates a great deal of care and management.
Rob and his team seemed very conscious of the importance of every tree, because, as he says, "Each tree belongs to someone who is looking for an investment return". As such, the trees are treated incredibly respectfully. This attitude is reflected at all levels, from the nurseries and plantations to the highly efficient timber mill.
After being shown the many different aspects of the business, it was clear the operations are not only environmentally sound, but also run for maximum efficiency and therefore maximum profitability for investors.
I observed a tremendous amount of activity across the business, all of which reinforced the authenticity of my due diligence and paperwork checks. For anyone considering an ethical investment in trees, I'd definitely recommend Ethical Forestry.
---
David and Pat Grace
I am an orthopaedic surgeon with not long to go before I retire. My wife Pat and I decided to spread our investments a little wider by purchasing several hundred Melina trees in Costa Rica through Ethical Forestry. I have always been interested in woodlands and have always had a strong interest in carpentry.
Two years after investing, we decided to take a holiday to Costa Rica and Nicaragua, partly so that we could see first-hand how our plantation of trees was developing. Through our contacts at Ethical Forestry, arrangements were made for us to visit the Santa Rosa de Procosol sawmills and the Chimurria plantation near Fortuna in the central northern part of Costa Rica. We spent a morning with Rob and Geri – Ethical Forestry's Costa Rica Directors – who very kindly took us through the process of how the company selects the best seeds to grow in the nursery, as well as their maintenance activities, including thinning, harvesting and the eventual manufacture into pallets. Costa Rica is very politically stable, and in addition to providing employment for a sizeable local workforce, the whole enterprise appeared ecologically sound.
Pat and I were very surprised to see how much our trees had grown in less than two years, already being 25-30 foot high and averaging 5-6 inches in diameter. We look forward to benefiting from the first return on our investment in a couple of years or so, when the first thinning takes place. From what we have seen, the rich volcanic soil combined with long hours of sunshine and decent annual rainfall should maximise future tree growth in excess of our expectations.
---
Brenda Lawson
As the owner of 'Ambleside B&B' Tetbury, in the Cotswolds, I am fortunate to run a business that supports my belief in sustainability and my passion for out-of-season travel. The B&B has solar panels to heat the water, a wood burning stove and, where possible, breakfasts are made using local, organic ingredients. As a semi retiree, managing my money for the future is an important and challenging issue. At a time when the stock market was particularly sluggish, I decided to explore alternative investments and discovered Ethical Forestry, which ticked several boxes, including some very attractive projected returns on investment. Admittedly, I encountered some resistance: "It looks a bit too good to be true" being a common response. But after endlessly grilling a very patient Mark Finn at the company's head office, I decided to invest. This gave me the perfect excuse to visit Costa Rica, and a trip to Ethical Forestry's operations was arranged. I had been eager to see Costa Rica's rainforests and wildlife for sometime, so it was an exciting opportunity for me. Directors Robert Brown and his wife Geri picked me up from my hotel and drove me to the Chimurria plantation. What a delightful couple they are – full of knowledge and passion for the business. It was quite a thrill to see the plantation on which my trees are growing and also witness the incredible growth stages of the Melina. They also took me to visit their head office, timber mill and nursery where the seedlings were being transplanted. I was very impressed with the whole set up and particularly liked the allotments dedicated to growing vegetables for the workforce – an initiative called 'The Workers' Cooperative'. I came away with a totally positive feeling about the company, which certainly enhanced my holiday. My two sons, who are both self-employed in ethical businesses, are now looking into Ethical Forestry as a pension investment.
---
Michael Wadham
I'm passionate about trees. As a volunteer for UK woodland charities, I've been lucky to be involved in some wonderful projects where I've planted thousands of trees. And as a tree warden for the market village of Elmstead, I've recently planted Dutch Elm resistant elm trees in a bid to 'Put the elm back into Elmstead' – pardon the pun! Although I live in the UK, I visit Costa Rica annually where I'm fortunate to own a house situated on 25 acres of land on the beautiful Osa Peninsula. Costa Rica is an amazing country steeped in culture and the warmth of the people, complimented by modern cities – a far cry from the typical naïve perception of a Third World central American country. Many factors of the investment appealed to me such as the remarkable rate at which Melina trees grow, producing fully mature trees in just 12 years; the process and importance of commercial, sustainable forests and the vital role they play in providing a sustainable wood source; and Ethical Forestry's transparent approach and how they openly publish information, in particular their Land Registry details on the Costa Rican Land Registry website (which as a land owner in Costa Rica I'm familiar with). As my 18-month project with a US biotech company nears fruition, I'm looking forward to starting my MSc in Agroforestry at Bangor (which has close links with CATIE in Costa Rica – Ethical Forestry's high-grade seed supplier) and of course, receiving my investment returns.
---
Simon, Sarah and Cameron Gibbons
After my wife Sarah and I gave careful consideration to our pension fund in which we were achieving between 3% and 8% returns but averaging around 4%, and with inflation running at around 2.5% on our savings, we decided to investigate the alternative investment market, which led us to Ethical Forestry. At first we thought the figures were perhaps too good to be true, but with many news reports on the global timber supply chain reducing and demand for timber products rising year-on-year, we contacted them and arranged to visit their offices in Bournemouth. What struck us most about the company was the professionalism, both in their attitude and work environment. Specialising in just one area, their level of expertise was clear from the outset. After going through the figures in detail, from Melina growth rates to its current market value, we quickly warmed to the prospect of investing. Our next hurdle was the concern for the security of our investment. This was quickly overcome by having the comfort of a tree replacement guarantee for the first three years, rights to the land on which our trees would be planted throughout the term and individual GPS points for every tree. The environmental benefits were also an important consideration for us; we want to leave the world a better place for our son, Cameron. Cameron liked the investment too so as a family we invested, both for our pension and a sum from Cameron's savings that will generate income for his university fees or home deposit.
---
Paul Robinson
I first met Ethical Forestry by chance at The Property Investor Show in February. I spoke with Business Development Manager, Jerry Thomas, at their exhibition stand and spent over an hour talking to him. I was highly impressed by the company's professionalism, expertise and potential returns. I left the exhibition feeling incredibly curious about their proposition, as it all sounded slightly too good to be true; other woodland investments I'd read about were prohibitively expensive and mainly UK based. After months of research and countless calls and emails to the ever-knowledgeable Jerry, I decided to further pursue my curiosity and visit their offices in Bournemouth. I met the founder of the company, Matthew Pickard, along with numerous staff members, as I wanted to know more about the actual business and the people behind it, especially as they would be playing such a pivotal part in my retirement. After this meeting I decided to invest £80,000 in their Accumulator product by merging my underperforming personal pensions into a SIPP. I would highly recommend Ethical Forestry as a genuine investment proposition, especially as part of a balanced portfolio. Next year I turn 40, so planning for my retirement is a real priority. Historically I have invested in a handful of buy-to-let properties in the UK and abroad and I also try to maximise my ISA allowance each year by investing in mainly UK stocks and investments. This is the first investment I have made that ticks so many boxes, from the way the company is set up, to looking after its employees in Costa Rica, to the amount of carbon that is neutralised with each tree planted. If the projected returns are delivered over the next 24 years, my family and I shall be very happy to have invested in Ethical Forestry. In the meantime, we're really looking forward to heading out to Costa Rica next year to meet everyone and see our investment and the trees for ourselves.
---
Dr. Thoreya Swage
I first came across Ethical Forestry whilst reading a green-themed supplement in the Guardian newspaper. The thought of making a difference whilst making a decent return really appealed to me. The positive returns on offer, combined with the fact that my current investments (such as my ISA) had not been performing well, also made the opportunity conducive. After speaking with a member of Ethical Forestry's staff, I was sent a timber investment guide that explained how the investments worked. The pack also included newsletters, which gave me a less formal view into how the company operated; I felt this offered a useful insight. I decided to explore the opportunity further, so I requested a meeting at their Bournemouth head office, where we discussed the investment opportunities in greater detail. I was particularly interested in the management of the whole system - in other words, in the care and management of my prospective trees, the fact that the land would be protected within their Forestry Easement Trust after use and the health and welfare of the local people who would be looking after my trees. Mark Finn explained how they only used their own approved forestry engineers to monitor trees within their care. The combination of detailed, attentive management and the fact that Ethical Forestry own all of their plantations boosted my confidence in investing. I decided to cash in an underperforming ISA and invest in some trees. When I receive my returns I am considering reinvesting in more trees in order to build an ongoing revenue stream. Being a doctor and mother, my life is fairly hectic to say the least. By investing with Ethical Forestry, I have the reassurance that I have a flexible investment opportunity that can evolve with my family and make a difference for the future of the planet.
---
Barry Worby
I was looking to invest some money. I looked at the buy-to-let market but with property being so high in price still, plus interest rates being so low, it was not a good investment at the time. I also looked at stocks and shares as well as ISAs (recommended to me by an IFA), but the country/world is/was in such an unsettled state they were not an option. When I sat at my computer and thought laterally, I came across Ethical Forestry. I also found other companies selling a similar idea, but Ethical Forestry seemed better to me. As I am 53 years old, I am not ready to retire but looking at my pensions I would have had a very basic - in fact almost breadline - existence. I decided to invest in the Accumulator for this purpose but not through a pension scheme for several reasons. I have also invested an additional amount that will bring me an increasing income from year 4, which will reduce the amount of daily work I need to do and allow me to get on with the things I like doing. My last investment was a gift to my two daughters, which I hope will help them throughout their lives and give me the opportunity (I hope) to watch them spend, invest or save the money while I am still alive. Many people leave money to their children when they die, which means they are not here to watch them enjoy it.
---
Shoshana Moskowitz
I was looking for a long-term investment that will create income for me, support the higher education of my daughter and also help her to purchase her first house. When considering where to invest, I wanted something that would contribute to the world, as well as our financial security. After researching the few investments that offer both, I decided to contact Ethical Forestry. I discussed the various investment options offered and decided that the Accumulator was best suited to my future financial plans. I also discussed the ecological ethos of the company and it soon became apparent that they offer renewable, sustainable investments that contribute to the bonding of soil and oxygenating the planet, which works for me as it is synergistic with my business' ethos. The fact that the growth in value of the trees is exponential and unique – both increasing in value per unit over time, and increasing in units due to growth of the actual trees - appealed to me. It is reassuring to know that my investment will be well managed, easy to keep track of and not require time on a daily basis, like stocks.
---
Kevin Dersley
At 52 I started to realise that I hadn't got anything in place for my retirement or pension. I searched endlessly through countless money magazines looking for the right investment for me. Ethical Forestry captured my attention straight away and seemed to tick all the boxes. I have a real passion and concern for the environment, so it's important to me to be involved with looking after the world's rainforests and wildlife. The more I looked into timber investments, the more enthusiastic I became about investing. I contacted Ethical Forestry, who arranged for one of their team to visit me. They talked me through the investment process step-by-step. I didn't feel pressurised, nothing was too much trouble and I felt completely at ease. The returns seemed very promising for a low risk investment and as I had a considerable sum to invest, I needed to know and feel that I was doing the right thing. I have now been with Ethical Forestry for a year and am extremely pleased with the after sales service. You will find that there is always a representative at the other end of the phone to satisfy your needs and any questions you may have. I am looking forward to making future investments each year because the potential is vast. I would also like to thank the Ethical Forestry team here and in Costa Rica for all their hard work and for looking after all of our investments - they are doing a great job!